Interview with a Vampire Player
by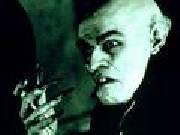 With Halloween just around the corner, I'm reminded of Willem Dafoe's terrific performance in Shadow of the Vampire and how willing he was to talk about it at the Telluride Film Festival in September of 2000. During an interview and special conversation session in Telluride, Dafoe shared his reactions about portraying an actor who appeared as a vampire in the silent German horror classic Nosferatu.
"No one on the set ever saw me without the vampire make-up," he said. "I had to arrive three hours before everyone else to get made up, and I stayed later to remove the make-up. So, just like in our film, people started wondering if I was a real vampire!"
A campy movie about the making of Nosferatu in 1922, Shadow of the Vampire stars John Malkovich as director F. W. Murnau and Dafoe as the mysterious Max Schreck, who is portrayed as a real vampire in this fictionalized version of events. Dafoe, a completely unthreatening and friendly person in real life, obviously relished playing such a scary role. He endowed it with surprising flashes of humor --- like clicking those clawlike fingernails when plotting something evil. "I liked the costume, the mask, the physicality of the character," he declared.
Even so, the unconventional actor had difficulty with one particular scene. "In the sequence where I'm drinking schnapps with the producer and writer, I have to catch a rubber bat that's swinging by me on a fishing pole, bite off its head, and just go right on talking," he explained. "Because it was in the morning, we were about to lose the light and had to shoot the entire thing straight through without any re-takes. I felt considerable pressure to get that shot right the first time."
Joking about the image he projected while filming, Dafoe stated, "We were on location in a little Luxembourg village, and you can imagine how children coming home from school were frightened when they saw me as this horrible creature emerging from the forest."
Dafoe's portrayal of Schreck garnered praise at other film festivals and earned him an Oscar nomination for Best Supporting Actor. Nicolas Cage, a co-producer of Shadow of the Vampire, calls Dafoe's Schreck "the most compelling vampire I've seen on film." Director Elias Merhige credits Dafoe with putting his own spin on this character through much of the filming. "There were so many great things that came out of rehearsing with the actors that I had to just throw some of the storyboards out," he revealed. "Some of the stuff that was going on between Willem and John was so great that I had to include it."
Dafoe explained he hadn't met screenwriter Steven Katz before making this film. Still, Katz wrote the role of Schreck with Dafoe in mind, claiming he "just has this quality --- a mixture of the incredibly frightening and threatening with an erotic charge too that I knew was perfect for the part." Dafoe, who has made over forty films, observed. "Katz was familiar with my work, and I admired his script right away. It was witty, complete, and strong."
Commenting on the popularity of vampire movies since Nosferatu, Dafoe said, "People love to get scared. They love to deal with the 'boogie man' and the undead. People are always, in various ways, avoiding their mortality, so the idea of the undead coming back to feed on the living is kind of comforting in a way. That's pretty cool stuff. It's close to our nightmares and daydreams."
How did Dafoe prepare for this grotesque role? "So much had to wait until I got into the make-up," he said. "I didn't just have extreme make-up, but also a costume that was restricting. The shoes made me walk a particular way. The padding in the clothes also made me walk strangely. It was great because it's a huge mask which frees you up so much. "
Still, Dafoe identified the footage of Nosferatu as his most important research tool. "It was a kind of touchstone and base," he explained. "Nosferatu is filled with creepy images that blur the boundaries between the real and the unreal. It's considered by many to be Murnau's greatest movie and served as the inspiration for dozens of vampire films, including the famous Hollywood version starring Bela Lugosi." According to Dafoe, Nosferatu was based on Bram Stoker's Dracula, but different names had to be used because of legal problems with Stoker's estate. The title was changed, and Count Dracula became Count Orlok. "The only thing I could find out about Schreck (who played Orlok) was that a biographer of Murnau said he was an actor of no distinction," Dafoe stated.
It's ironic that an acclaimed actor was selected to portray another actor referred to as one of no distinction. But Dafoe is used to doing unconventional roles in films like Wild at Heart, Streets of Fire, Lulu on the Bridge, and eXistenZ. He once complained about missing out on more traditional parts because filmmakers view him as "an eccentric actor in dark little films, a kind of boy next door type -- if you lived next door to a mausoleum."
(Excerpt from CONFESSIONS OF A MOVIE ADDICT, published by Hats Off Books, December 2001.)
Photo: ©2001 Shadow of the Vampire, Lions Gate Films, All Rights Reserved.