It Can Happen to Anyone
by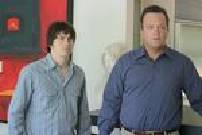 I realize that Tom Arnold is a very vivacious actor, but when talking with him about his latest film project, Happy Endings, he was so excited about it that I had trouble getting a question in.
Happy Endings involves 10 different stories with intertwining characters, most who think and act one way, when they should have paused and gone in another direction. The ensemble cast includes Tom Arnold (Frank), Maggie Gyllenhaal (Jude), Lisa Kudrow (Mamie), Sarah Clarke (Diane) Steve Coogan (Charley), Jesse Bradford (Nicky), Jason Ritter (Otis) and Laura Dern (Pam).
"I like that the story is unpredictable," said Arnold, "especially me as a romantic lead, that's why I was so pleasantly surprised when Don Roos gave me the script a few years ago and said he wrote the part for me."
Maggie Gyllenhaal is absolutely perfect as Jude, a woman who always knows what she wants and how to get it. When she seduces Otis, the act works for them both -- she wants to hang out in Otis's fancy house while Otis wants to prove to his father, Frank, that he's not gay. When the courtship is over, Jude goes for dad. A loner since his wife died, Frank is so besotted with Jude he even purposes marriage, but he's not ready for any explanations from Jude when he learns the truth about her.
"Frank is really looking for something else, but he needs self-esteem and that's where his relationship with Jude starts," Arnold explained.
Frank and Jude really seem like the real thing. "Working with Maggie is incredibly easy," said Arnold. "Anyone could fall in love with her pretty quick. She's sort of an old soul that is nurturing, fun and you just want to follow her around and see what she's going to do next."
Arnold has had stepchildren, but he doesn't have any real children of his own. Yet he identified with his on-screen son Otis. "I'm the oldest brother of seven and I work with a lot of younger men all the time, so there's a lot I understand about men," he explained. "Jason was such a good kid and everyone loved him."
The cleanly written dialogue reveals a lot of the character's personality. "There's a line when Frank says about his deceased wife, 'I never cheated on her,' that says a lot about his character."
These are a few of the subplots that swirl around in director Don Roos' story. Steve Coogan and David Sutcliffe (Gil) play gay lovers whose best friends Pam and Diane borrowed Gil's sperm to make a baby, and then told him it didn't work. Gil doubts that. Nicky, a filmmaker, calls Mamie to blackmail her and promises to tell her the whereabouts of the son she gave up for adoption. Arnold admitted that some of the characters -- as written in the script -- were less than likeable.
"As written they're not perfect, and you tend to want to write them off," he said. "I hook up with Otis's former girlfriend which sounds creepy, and Mamie has this secret that stifles her, and there are problems with the other characters too. But there's a growth that happens with all these people through the other characters, and they realize its time to do something about the situations."
As awful as some of the situations sound, there's a lot of humor in the film as well. Arnold is always a king at comedy, but he enjoyed the serious aspects, as well as the romantic ones in this film.
"I'll do a movie like this anytime," he declared. "I've read a few scripts I'm interested in. With a guy like me, most directors are willing to take risks. Jim Cameron did that with me in True Lies because of the chaos in my life at the time and my lack of feature experience. Don Roos took a risk with this film, and I think it turned out all right. I hope it opens some new avenues, even though broad comedy will always pay more. In regards to some bad choices in the past, I've always thought I could make anything better, which has not always been the case. The bottom line is the director, he makes the difference."
Arnold has his own ideas about happy endings in life. "A lot of us grow up and have secrets that have injured us emotionally, and we're lost a little bit. But if you can deal with that wreckage and that secret and the pain, there is hope if you can free yourself to be available for some happy endings."
Happy Endings, released by Lions Gate Films and rated "R" for sexual content, language and some drug use, is a funny, sexy and at times realistic drama about second chances to find those happy endings we all desire.
PHOTO: Tom Arnold (right) and Jason Ritter in Happy Endings.
(Read Diana Saenger's reviews of classic films at http://classicfilm.about.com.)