Culture Clash
by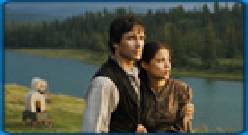 Into the West, a television miniseries premiering on TNT the weekend of June 10, explores the opening of the American West through the eyes of people representing two cultures -- the settlers and the Native Americans. According to co-producer William Mastrosimone, who's also one of the writers, the biggest challenge involved "getting to a place of understanding the Indian world-view and thinking through the clichés of the classic westerns and getting to a place where we see the world with new eyes."
To that end, several Native advisors have provided their expertise for the ambitious Steven Spielberg/DreamWorks project. Joseph M. Marshall III, who also serves as native narrator throughout the series, applauds this approach. "You tend to get a more realistic viewpoint, intent, scope and authenticity when you go directly to the source, which is what this production has done by having Native advisors on staff," he says.
By focusing on a particular pioneer family and a Native American family during the years from 1825 to 1890, Into the West takes on a personal touch, and I became hooked on the story early on. At the time of this writing, I've seen only two episodes (as part of a promotional package), but I'm looking forward to the remaining four.
Episode One: Wheels to the Stars sets the stage with its sweeping cinematic style and dramatic intensity. Although a bit slow moving at the beginning, the first episode picks up as viewers are introduced to fascinating characters from both families. Little do any of the individuals involved realize how their paths will intertwine and what immense changes are in store for them all. Among fine performances by the ensemble cast here, two stand out. Despite the cultural differences of the characters they play, Matthew Settle and Tonantzin Carmelo seem meant for each other. Settle portrays Jacob Wheeler, an adventurous wheelwright who decides to seek his fortune in the West, and Carmelo is Thunder Heart Woman, the brave Lakota woman who becomes his wife.
Manifest Destiny, a fitting title for Episode Two, deals with the suffering and tragedies faced by pioneers on their Westward trek as well as by the Native Americans inhabiting the West. Thunder Heart Woman's brother Running Fox (Zach McClarnon) and his followers meet with disaster when trying to mix with the white man. At the same time, Jacob's brother Jethro (Skeet Ulrich) and his three cousins join the wagon train headed for California and are confronted with a cholera epidemic in addition to injuries from runaway wagons and arrows. Adding tension to the story, a Cheyenne war party captures Naomi (Keri Russell), one of Jacob's cousins, and soldiers later attack the Cheyenne village. Although this is a very dark episode (it's definitely NOT "How the West Was Fun"), glorious scenes of buffalo, plains, mountains and rivers make up for that.
The remaining four episodes -- Dreams & Schemes, Hell on Wheels, Casualties of War and Ghost Dance -- feature many talented actors including Sean Astin, Irene Bedard, Balthazar Getty, George Loach, Russell Means, Rachael Leigh Cook, Graham Greene, Christian Kane, Matthew Modine, Tom Berenger, Keith Carradine, Joanna Going and Wes Studi.
"Into the West takes place during one of the single most dramatic periods in American history," declares executive producer Steven Spielberg. "We're painting this on a huge canvas in order to tell a story that explores the Gold Rush, the transcontinental railroad, the wild west and the Indian wars leading to the tragedy at Wounded Knee. These are all facets of the American and Native American experience. It's the story about opportunity and the clash of cultures and the eventual overwhelming of one nation's way of life over another."
Spielberg's co-producer Mastrosimone describes the conquest of the West as a Greek tragedy on American soil. "It was mostly a case of right vs. right: the right of a people to seek a new life in what they saw as the wilderness vs. the right of another people to live as they always have."
Will watching Into the West help all of us come together? Perhaps. Mastrosimone wants viewers to walk away with the idea that we still live inside the American character, in all its glories and darkness. "I want them to see that the conquest of the West was a unique struggle, for nowhere else that I know of in the annals of history had the victors more to learn from the conquered. In 2005, we have yet to learn and act upon their understanding of the workings of nature and its relationship to us."
(Photo: Matthew Settle and Tonantzin Carmelo by Kurt Markus. TM & © 2005 Turner Broadcasting System, Inc. A Time Warner Company. All Rights Reserved.)