Four Films for Women's History Month
by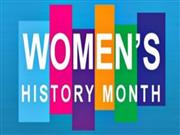 Many great movies have been made about inspirational real-life women and their accomplishments. My four favorites represent the diverse areas of art, math, cinema, and journalism. These films are listed belos in alphabetical order.
FRIDA (2002). Salma Hayek deserves credit for her relentless determination to bring Frida Kahlo to life on the big screen. She worked tirelessly for several years on this project. And she puts heart and soul into her portrayal of the iconic artist. Through the magic of make-up and costumes, the gorgeous Hayek manages to resemble Kahlo – unibrow and all. But, even more important is her impressive projection of the woman's passion, intelligence, and ability to endure constant physical pain. This film boasts amazing visuals including: a shimmering gold dust floating all around an injured Frida during a horrific bus accident; Frida's famous paintings slowly coming to life; whimsical montages of New York and Paris used as transitions; and an overview of bed-ridden Frida in a vibrant red gown. I continue to be bowled over by filmmaker Julie Taymor's exquisite blending of color, style, and scope in all her offerings.
HIDDEN FIGURES (2017). This eye-opening film tells the true story of black female mathematicians who helped with the U.S. space race against the Soviet Union. These amazing African-American women took jobs at NASA -- and despite the discrimination they faced -- played key roles in Project Mercury, the first Apollo 11 launch to the moon. Based on Margot Lee Shetterly's book, the cast includes Taraji P. Henson as Katherine Johnson, Octavia Spencer as Dorothy Vaughan, and Janelle Monáe as Mary Jackson. Why their accomplishments remained hidden for so many years is beyond me! Hidden Figures boasts splendid performances and delivers a compelling story that should be required viewing in every American History class.
MARY PICKFORD: MUSE OF THE MOVIES (2008). Many women have made important contributions to the history of motion pictures. However, after seeing Mary Pickford: The Muse of the Movies, I believe Mary Pickford may be at the top of that list. This wonderful documentary not only showcases the life of the legendary star but also intertwines her career with the birth of the cinema. Directed, edited and co-produced by veteran filmmaker Nicholas Eliopoulos, the film is a must-see for everyone who loves movies. It's a treasure chest of information about the early days of filmmaking and how Pickford shaped the development of acting for the screen
VERONICA GUERIN (2003). Imperfect she might have been, but the brash Irish journalist depicted in Veronica Guerin deserves admiration for her persistence and courage. Starring Cate Blanchett and based on the true-life story of a woman who brought down the drug barons of Dublin, this biopic is tough to watch, mostly because we know from the beginning it ends in Guerin's assassination. And Blanchett's brilliant performance adds to the film's disturbing ambience by making everything seem so real. Australian-born Blanchett prepared for her role by studying Guerin's television and radio interviews, reading her newspaper articles, and spending time with the people who knew her. As a result, Blanchett's performance captures the true essence of the Irish icon. Her brogue never falters, and her acting -- from those flippant one-liners and mock flirtations to her terrified expression while being shot in the leg by an unknown assailant -- always rings true.