National Dance Day Film Tunes Encore
by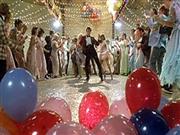 In honor of National Dance Day, which occurs on the last Saturday in July (7/28 this year), Movie Addict HQ presents an On Demand episode featuring favorite dance tunes from such movies as Singin' in the Rain, Mary Poppins, Cinderella, The Band Wagon, Dance Girl Dance, Footloose, Rocky Horror Picture Show, Yankee Doodle Dancy, Addicted to Love and Viva Las Vegas!
Performers include such stars as Gene Kelly, Julie Andrews, Luci Arnaz, Elvis Presley, Lucille Ball, Lily James, and James Cagney.
Listeners can hear this show at any time during the week of July 23 – July 29 by clicking on the link at the end of this article.
National Dance Day was created to raise awareness about and encourage Americans to embrace dance as a fun and positive way to maintain good health, and we are happy to highlight such a worthy cause.
Back in 2010, Senator Eleanor Holmes Norton introduced the resolution in Congress, and the last Saturday in July was designated as an unofficial national holiday by Nigel Lythgoe, co-creator of "So You Think You Can Dance" and co-president of the Dizzy Feet Foundation.
Each year, various communities throughout the nation hold dance events to celebrate National Dance Day. Be sure to check out what might be available in your area.
Then brush off your dancing shoes and listen to this popular episode that includes many types of dance tunes. C'mon – let's dance!
HOST: Betty Jo Tucker
PRODUCER: Nikki Starr
LISTENING LINK: Click here.