Lipstick Noir
by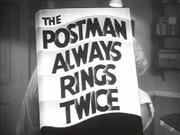 What does film noir mean? More importantly, how are such themes expressed by the cinematographic approach in The Postman Always Rings Twice?

Specifically, a film noir depicts the world i.e. a city or milieu as a low-key, untrustworthy habitat. Characters lie, they seduce to get what they want so boundaries between desire and love end up hazy at best. That's not to say they are unlikeable. Also, when things go belly-up they rarely pander to audience sympathies. Therefore, we must decide as individuals whether to like them or not. This constitutes the grey area inside the film noir verse.

There are few films as radiant and insightful as The Postman Always Rings Twice. That's because the characters are so well defined. Simply mute the soundtrack and you can still tell what they are thinking. Sidney Wagner's lensing, especially the close-ups of Lana Turner in seduction mode, could collapse the moral fortitude of a Hun apocalypse.

As a defining example, few could hope for more. Adapted from James M. Cain's bestseller, The Postman Always Rings Twice also stars John Garfield.

Once, censorship was a powerful compass that had to be followed to the letter. Meanwhile, the modern age has relaxed such an iron grip. I believe it has made cinema weaker. However, that's for another discussion.

Although very much of its time, this 1946 noir endures. Why? Because modern filmmakers adore such finesse. Ultimately, when scenes play out in bright environments, subtleties are lost as everything gains importance. Therefore, the film noir cameraman takes away information by painting with darkness. Actors can be difficult to read when eyes are obscured by shadows and contrast. That's the playground which allows film noir to smoulder and fester.

Above all, the femme fatale -- essential to every film noir -- emerges via the shapely blonde silhouette of Cora Smith (Lana Turner). She drops her lipstick, which rolls across the floor. Meanwhile, Frank Chambers (John Garfield), a drifter and jack of all trades has entered the diner as a potential employee. He spots the lipstick first, then the camera takes up his viewpoint as Cora's legs are shown. We see him react and then we see her in close-up. In narrative parlance, this constitutes the "hook," a way of grabbing the viewer so they'll stay for more. This extraordinary sequence not only introduces Turner's character, it reveals Garfield's instant attraction to her.

Observing Nick (Cecil Kelloway) in a drunken state behind the wheel, Frank lets slip how nice it would be if the old man wasn't around anymore. Although this initially horrifies Cora, the seeds of dramatic murder have been sown.

Alongside such frontrunners as He Walked by Night and Double Indemnity, The Postman Always Rings Twice posits clear dimensionality where morality becomes unhinged, and temptation is all.