We're Off To See The Wizard of Oz!
by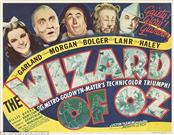 Follow the yellow brick road to The Wizard of Oz Encore Episode on Movie Addict HQ from October 30 to November 5. This popular show was first aired to honor the film's 75th Anniversary Celebration back in 2013. Guests include: Lorna Luft , who is Judy Garland's daughter; Barry Monush, editor/author of the Screen World anthology series; film historian James Colt Harrison; and Diana Saenger from Classic Movie Guide.
Listeners can hear this encore episode at any time during the week by clicking on the BlogTalkRadio link at the end of this article.
Lorna Luft has won acclaim on stage, film and television. She's also a best-selling author, recording artist and Emmy-nominated producer. Her book, Me and My Shadows: Living with the Legacy of Judy Garland, was turned into a miniseries that won 5 Emmy Awards. Lorna's live theater experience includes a stint as the Wicked Witch of the West in the UK production of The Wizard of Oz. Another of Lorna's accomplishments is Songs My Mother Taught Me, a spectacular concert combining one of the world's most familiar songbooks with her personal memories of her famous mother. A CD based on this event was released on First Night Records.
Barry Monush, author/editor of Screen World 2011, does research for the Paley Center for the Media. He also wrote the following books: Music on Film: West Side Story; Encyclopedia of Hollywood Film Actors: From the Silent Era to 1965; Everybody's Talkin': The Top Films of 1965-1969. He's the co-author of Lucille Ball FAQ and recently updated Stanley Green's Hollywood Musicals: Year by Year.
Diana Saenger serves as entertainment editor for the San Diego East County Gazette and is the founder/editor of Classic Movie Guide. She also operates her own syndicate and online site called Review Express. She's the author of the award-winning novella Deadline: Romance and Everyone Wants My Job: The ABCs of Entertainment Writing.
James Colt Harrison, who calls himself "the world's oldest teenage movie fan," has written a history of MGM, the studio where Judy Garland made most of her movies. He also served as the premier film critic for The La Jolla Village News and contributes reviews to such outlets as Classic Movie Guide and Review Express.
MGM re-released The Wizard of Oz in 1949 and again in 1955. In 1956, the movie received its initial television broadcast and, since 1959, has become a yearly television event. This makes it one of the most-viewed motion pictures of all time.
HOST: Betty Jo Tucker
PRODUCER: Nikki Starr
LINK TO LISTEN: Click here.