Santa's Boot Camp: Sneak Peek
by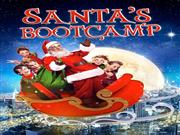 On September 27, Atlanta-born filmmaker Ken Feinberg drops by Movie Addict Headquarters to give listeners a sneak peek at SANTA'S BOOT CAMP, a family holiday motion picture opening in November. This fun movie stars a bunch of kids and features a cameo by Academy Award nominee Eric Roberts. Feinberg once made a nice living in Los Angeles playing big, bad-looking meanies on shows like Buffy the Vampire Slayer and Charmed, but he became disappointed about running into a wall of typecasting. That prompted him to move back to Atlanta and start the Creative Studios of Atlanta Film Academy for young actors. SANTA'S BOOT CAMP provided the students with an opportunity to work in a real film.
SANTA'S BOOT CAMP is a hilarious look behind the scenes at Santa's Workshop where the Elves go on strike and a handful of regular kids must save the day. A story with valuable lessons that speak to contemporary issues and celebrate the universal holiday themes of generosity and kindness, the film was recently awarded the Director's Gold Award at the International Family Film Festival, and will be distributed by SP Releasing on November 15. Roberts stars as a beleaguered mall Santa, and nearly 50 young performers have speaking parts.
"Santa's Boot Camp: Sneak Peek" airs on BlogTalkRadio at 4 p.m. Eastern Time (1 p.m. Pacific Time) on Tuesday, September 27, 2016. During the live show, listeners are invited to call in and to participate in a chat. An archived segment will also be available.
CALL-IN NUMBER: 646-478-5668
HOST: Betty Jo
PRODUCER: Nikki Starr
LINK: Click here.