Early Years as a Movie Addict
by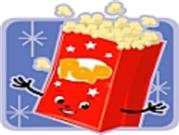 Lockdowns, social distancing and mask-wearing make me nostalgic for my early years as a movie addict. During grade school, my cousins and I spent most of our weekends at the Clyne and Avalon, two movie houses located across the street from each other in a working class neighborhood called Bessemer. Both theaters always scheduled a double feature plus "added attractions" which included one cartoon, a serial, film previews, and a newsreel. Wide-eyed, we enjoyed every offering while gorging ourselves on popcorn, Milk Duds, and ice-cream bars. Sometimes we went from one "picture show," which is what we called the theatres then, directly to the other. We were insatiable when it came to movies and goodies.
When we were a bit older, we hopped on a streetcar for a bumpy ride to one of the downtown cinemas. We loved the Chief because of its lavish red and gold interior – but preferred the Main's more buttery popcorn. The Colorado usually offered a double feature which was hard to resist. And sometimes we stopped off at the Mesa Junction to take in another flick at the Uptown, famous for its "bank night" giveaways.
Reacting to my obsession with film, my mother actually tried to land me a part in a movie. After hearing about MGM's search for a young girl to star in National Velvet, she sent the studio a picture of me on a horse. That role went to Elizabeth Taylor, of course. I recall she appeared earlier in Lassie Come Home, a film I didn't get to see all the way through. Because Ruella, my sensitive little sister, made too much noise sobbing over the collie's misfortunes, we had to take her home in the middle of the movie. I forgave her --- a few years later.
During my teens, next to the movies I loved tap dancing best. Put the two together and I was in seventh heaven. While watching MGM musicals, I always knew something special was in store every time Mickey Rooney said to Judy Garland, "Let's put on a show!" Never mind about strikingly similar plots and characters in such films as Babes in Arms, Babes on Broadway, Girl Crazy and so on. That didn't faze me. I could hardly wait for the dancing and singing to begin.
I was also enchanted by glorious musicals from other studios. I couldn't get enough of stars like Ginger Rogers, Fred Astaire, Betty Grable, Alice Faye, Gene Kelly, and Rita Hayworth. My cousin JoAnne and I wrote fan letters to all our favorites, amassing quite a collection of autographed photos. JoAnne claims I later gave her my signed glossies with the announcement, "I've outgrown all this." My husband believes that's impossible. He insists I still haven't outgrown my passion. He's probably right.