Hollywood Legends Encore
by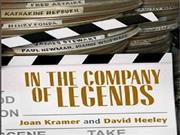 From Monday (May 13) through Sunday (June 2), Movie Addict HQ presents Hollywood Legends Encore as our On Demand show. During this popular episode, co-authors Joan Kramer and David Heeley discuss In the Company of Legends, their behind-the-scenes book about the movie star documentaries they worked together on, including their award-winning profiles of Fred Astaire, Spencer Tracy, Humphrey Bogart, Katharine Hepburn, Paul Newman, Judy Garland, Jimmy Stewart and Henry Fonda.
This dynamic duo established a reputation for finding the un-findable, persuading the reluctant, and maintaining unique relationships long after the end credits rolled. This should be a must-hear episode for movie fans! Listeners can hear this vintage show at any time during the week by clicking on the link at the end of this article.
The late great Robert Osborne, famous host of Turner Classic Movies, described In the Company of Legends "one of the best reasons ever for curling up with a book," and talk show host Dick Cavett says the Kramer/Heeley memoir is "so hard to put down I ate with one hand while reading it." Osborne praised the book because it's about "dazzling personalities and told by people who actually knew the celebrities they write about, worked with them and, further, socialized with them, aware of their foibles and strengths from first-hand knowledge, not hearsay."
Among the Kramer and Heeley documentaries are: Katharine Hepburn: All About Me; Bacall on Bogart; The John Garfield Story; The Adventures of Errol Flynn; The Spencer Tracey Legacy; James Stewart: A Wonderful Life; Fonda on Fonda; Fred Astaire: Puttin' on His Top Hat; Fred Astaire: Change Partners and Dance.
Don't miss this revealing and fascinating discussion with two insiders who worked with some of your favorite classic film stars.
HOST: Betty Jo Tucker
PRODUCER: Nikki Starr
LINK TO LISTEN: Click here.