Cloris Leachman & Son Again!
by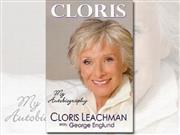 As a special pre-Motherís Day treat, Movie Addict Headquarters is presenting an ON DEMAND vintage interview with Cloris Leachman and her son George Englund Jr. from Tuesday, April 30 (Cloris' birthday) through Mother's Day, May 12. And what a dynamic mother/son team they are! They talk about Clorisís extraordinary showbiz career as well as her candid autobiography.
More a comedy ambush than interview, this popular episode can be heard any time by clicking on the BlogTalkRadio link at the end of this article.
With many Broadway plays, films and television shows plus training at the famous Actors Studio to her credit, Cloris boasts a wealth of acting experience to draw from, and she relates many humorous incidents for listeners to enjoy, while George reveals what itís been like for him to be his motherís manager.
Cloris has been wowing audiences for over half a century. Sheís worked with such megastars as Paul Newman, Meryl Streep, Steve McQueen, Katharine Hepburn, Dianne Keaton and Sissy Spacek. Among her numerous memorable films are The Last Picture Show (which earned her a Best Supporting Actress Oscar), Young Frankenstein, High Anxiety,You Again and Spanglish.
Her television career is equally remarkable -- even without considering her sensational appearance on Dancing with the Stars. Sheís won nine Emmys and appeared in such shows as Malcolm in the Middle, Mary Tyler Moore,Phyllis, Raising Hope, The Muppet Show, Promised Land and A Brand New Life.
Warning: be prepared for the unexpected!
HOST: Betty Jo Tucker
CO-HOST: Jazz Shaw
PRODUCER: Nikki Starr
LISTENING LINK: Click here.