My Top Ten Films of 2018
by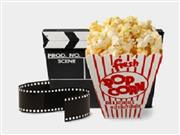 It's always easy for me to pick my top ten films of the year. Why? Because my selections include the movies I would most like to see over and over again. As the world's most avid movie musical fan, I am happy that two terrific musicals made it to my 2018 list. Surprisingly, my top pick isn't a musical -- though it ends with a rousing finale featuring prisoners singing and tap dancing! Below are my top ten favorite films of this year in order of preference.
PADDINGTON 2. I fell in love with a gentle bear called Paddington while watching his first movie. And this sequel is even better! Besides focusing on colorful characters, Paddington's second adventure emphasizes kindness, humanity, compassion -- and the magic of marmalade sandwiches.
MAMA MIA! HERE WE GO AGAIN. This glorious sequel is also more entertaining than the original. I'm not kidding! It's a great musical highlighting friendship, family and fun. And, oh yes, some catchy ABBA songs get performed with memorable flair.
A STAR IS BORN. A musical film of love and despair, this classic romance is always spellbinding. Bradley Cooper's version comes across as raw, heartfelt and delicious. Plus, Cooper and Lady Gaga -- who sing their hearts out -- make quite a pair.
ROMA. Filmmaker Alfonso Cuarón tapped into his own memory for this unique black-and-white movie about an indigenous young woman serving as a domestic worker for a middle class family in Mexico during the 1970s. Cinematic artistry helps us feel like we are seeing the real thing, which makes it easy to empathize with the courageous main character.
THE GUERNSEY LITERARY AND SWEET POTATO PEEL PIE SOCIETY. History, mystery and romance come together like a fine dance in this superb period piece based on a novel with the same long title. Lily James delivers one of her best performances as a big-city author whose life changes because of a visit to Guernsey Island, where she expects to write an article about the local residents. I didn't want this lovely movie to end. It's that good!
GREEN BOOK. Viggo Mortensen and Mahershala Ali deserve award recognition for their terrific performances in this highly acclaimed motion picture. What excellent dialog they are given! Playing two extremely different men traveling together and facing blatant discrimination, these two fine actors convinced me they were the real-life Italian-American Tony the Lip and the elegant African-American pianist Dr. Dan Shirley. Humor, heart and perseverance shine through each scene.
WON'T YOU BE MY NEIGHBOR? A treasure from start to end, this wonderful documentary is not just a movie. It's a spiritual experience. I laughed, cried and felt nostalgic while watching the clips of gentle Fred Rogers interacting with children and special guests on his popular "Mr. Rogers" TV shows. I had forgotten how effective he could be in helping children feel good about themselves.
BLACK PANTHER. A whole new world created right before our very eyes!!! Everything about this groundbreaking movie shows special care by the cast and crew members. Although a fantasy, the movie offers an inspiring down-to-earth ending that I love. First-rate performances by the predominately all-black cast (with women in important key roles) as well as the film's exciting plot and impressive production values make this remarkable motion picture a feast for the eyes, ears and heart.
ALPHA. This riveting story of a young tribesman given up for dead and bonding with a wolf really got to me. It's a simple plot and there's not much dialog, but the marvelous communication between these two is something to see. Also, the splendid cinematography helped draw me into the film, and I had one of those rare "you-are-there" experiences watching a film.
A QUIET PLACE. Shh! Don't make a sound. Although this scary movie about creatures who kill you if they hear you still haunts my dreams, I think it's one of the best horror flicks released during the past ten years. Originality, atmosphere, incredible acting and special effects combine to earn it a top ten rating.
HONORABLE MENTION (in no particular order): ISLE OF DOGS, WIDOWS, THE HATE U GIVE, THE BALLAD OF BUSTER SCRUGS, RBG, EIGHTH GRADE, PRODIGY, THE STORYTELLER, COUNTERFEITERS, LOVE SIMON, TO ALL THE BOYS I'VE LOVED BEFORE, CRAZY RICH ASIANS, TRAIN TO ZAKOPANẾ, WHITE FANG, and of course CAKE: A LOVE STORY (shameless plug)
FAVORITE SCENES:
The exuberant "Waterloo" number performed by Lily James and Hugh Skinner in MAMA MIA! HERE WE GO AGAIN
A single-parent dad (Josh Hamilton) telling his pre-teen daughter (Elsie Fisher) how proud he is of her in EIGHTH GRADE
Lady Gaga singing her unforgettable version of "La Vie En Rose" in A STAR IS BORN
The heartwarming ending of GREEN BOOK
FAVORITE QUOTE:
"Look, talent comes everywhere, but having something to say and a way to say it so that people listen to it, that's a whole other bag. And unless you get out and you try to do it, you'll never know." -- Jack in A STAR IS BORN