Rita Moreno Reveals All
by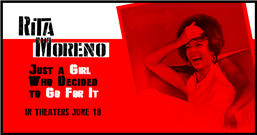 As a longtime Rita Moreno fan, I loved watching Rita Moreno: Just a Girl Who Decided to Go for It, one of the most revealing documentaries ever made. Although I knew from first-hand experience that this talented actress was quite candid about her feelings, some of the things she admitted in her documentary shocked me. I had the good fortune to interview her on my radio show when we were celebrating Singin' in the Rain. She also talked about some of her other movies, and when we got to West Side Story, she said, "Jerome Robbins almost killed me in the dance routines!"
But I still wasn't prepared for the descriptions of her love life in this terrific documentary directed by Mariem Pérez Riera. The film covers Moreno's life and work from her childhood in Puerto Rico to her success on Broadway and in Hollywood. She has the distinction of being one of the few people to be an EGOT, which stands for Emmy, Grammy, Oscar and Tony Awards winner.
Moreno talks a lot in the film and that's what fans will probably enjoy the most. But hearing from some of the people who know about her work also adds to our understanding of this national treasure. Showbiz folks like Morgan Freeman, Lin-Manuel Miranda, Mitzi Gaynor, Norman Lear, Justina Machada, Eva Longoria, Sonia Manzano, Gloria Estefan, and Whoopi Goldberg give fascinating testimonials regarding Moreno and why her contributions have been so important, especially to her ethnic group.
Being a dancer during most of my early life, I appreciate Moreno's description of how dance was her entrance into the entertainment world. And, boy, can she dance! Some of the clips from West Side Story show her fantastic dancing talent as well as her dramatic chops that combined to win her a Supporting Actress Oscar in 1962.
The most distressing part of this documentary involves how Moreno was treated when she worked for MGM. Same type of roles over and over again. Even after winning an Oscar, she didn't receive offers for meaty roles. But Moreno didn't give up. Her outstanding work in television and on Broadway kept her on our mind for many years. Who can forget The Rockford Files, The Muppet Show, The Electric Company, and One Day at a Time? Plus, Broadway fans remember her for The Ritz.
Now at 90 years old, Moreno is more popular than ever. And she's making the most of it.
Rita Moreno, cherished star,
her documentary goes far
into her reasons for success,
and the mistakes she's made. Oh Yes!
You'll be entranced with everything
Family, talents, and acting.
The most revealing I have seen.
I loved it all. Don't miss a scene!
(Released by Roadside Attractions and Netflix. Rated "PG-13" for suggestive material, a sexual reference, strong language throughout, and mature thematic material.)