Wonderful Town
by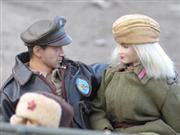 Is Mark Hogancamp an artist? Some people may not think so, but I believe the tiny world he created in his backyard ranks as true art. Marwencol, a fascinating documentary, showcases Mark's journey to recovery from a brutal beating through his own unusual therapy. Suffering from brain damage and not able to afford help, Mark built Marwencol, a 1/6" scale World War II-era town, and used dolls to represent his friends, family and even his attackers. When his photographs of the tiny village receive attention, he is thrust reluctantly into the art world.
While chronicling Mark's amazing accomplishments, director Jeff Malmberg also does a splendid job exploring the nature of art. "Some of the best art comes from conflict," he explains. "It has an honesty that art from pure cleverness just doesn't. And that makes it beautiful, but at the same time, it makes it very private. A very private experience that all of us want to share in."
Personally, I became totally involved in the town of Marwencol and with its many residents. Because Mark puts incredible detail into each doll's appearance, everything seemed so real to me! I loved following the exploits of Mark's alter ego, Captain Hogancamp, as he interacts with all the nostalgic characters populating Marwencol. I couldn't help feeling considerable suspense about such plot points as how our hero would outwit the Nazi SS men and which of the beautiful women (best use of Barbie dolls ever!) would win his heart. You don't have to know much about art to enjoy Marwencol. There's plenty of action, romance, and adventure in Mark's fictional town to hold your interest throughout this terrific film.
I also admire the movie's seamless connection between Mark's troubled real world and his artistic creation. Fortunately, the filmmaker handles Mark's struggle with personal/emotional problems with great sensitivity here.
It's not surprising Marwencol recently won the 2010 SXSW Competition Award for Best Documentary Feature. This is an extraordinary movie about a unique and gifted artist. As novelist Katherine Anne Porter pointed out many years ago, "Human life itself may be almost pure chaos, but the work of the artist is to take these handfuls of confusion and disparate things, things that seem so irreconcilable, and put them together in a frame to give them some kind of shape and meaning."
Clearly, Mark Hogancamp's artistic frame is the wonderful town of Marwencol.
(Released by Open Face Media; not rated by MPAA. For more information about Marwencol, please go to www.marwencol.com.)