Too Many Inconsitencies
by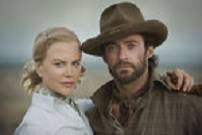 Three very talented Aussies got together to make Australia, a sweeping epic about their homeland, and each of their talents enthrall on screen. Unfortunately, the sum of the parts doesn't add up to a satisfactory whole. Baz Luhrmann's ambitious movie attempts to meld themes of depression, war, romance, mysticism, historical culture, revenge and adventure into one cohesive film -- a difficult task indeed.
After British socialite Lady Sarah Ashley (Nicole Kidman) determines her husband's philandering ways while doing business in Australia are too much to endure, she decides to give up her equestrian hobbies and travel to Darwin, Australia, to confront him. Upon arrival there, she finds her husband has been murdered and that their cattle business at Faraway Downs is about to be taken over by another rancher. She then hires Drover (Hugh Jackman), a man she considers a roughneck -- but the only one who offers his services.
Drover isn't interested in helping the snooty English woman, but he also doesn't want to leave her to defend herself against cattle baron King Carney (Bryan Brown), or from her own station manager Neil Fletcher (David Wenham), who seems aligned with Carney.
The story unfolds through swift action with lots of horse riding and cattle chasing, and dangerous incidents along the way. If trying to drive the cattle and contending with Drover's gruff attitude isn't enough, Sarah becomes a self-imposed guardian to Nullah (Brandon Walters), an adorable boy of mixed white and aboriginal blood who's in danger of being sent away to a camp for mixed race youngsters.
Nullah is guided by his grandfather (David Gulpilil), a mystical shaman who shows up in the oddest places and imparts wisdom to his grandson. Sarah begins to experience some of that provincial wisdom as she transforms from an empty shell of a woman to one passionate about life and finding an unexpected love relationship with Drover. But days of bliss are soon threatened when WWII begins, Australia comes under attack, Drover goes away, and Nullah is taken to an island for unwanted children.
Luhrmann's (Moulin Rouge!) passion to create an epic on his homeland is understandable, and Australia is certainly ambitious enough to have reached those heights. Yet while films such as Gone with the Wind or Titanic contain small subplots that move the overall story in the same direction, Australia's small stories are so epic in their own right, I felt disconcerted by their embellishment.
What's enjoyable about the film involves the production itself. Luhrmann went all out to film in his homeland, and the sequence showing a massive herd of cattle backed against a cliff reminded me of the parting of the Red Sea in The Ten Commandments. With incredible cinematography by Mandy Walker highlighting everything from New South Wales to the shores of Bowen, Queensland, and a sweeping musical score by David Hirschfelder, Australia should see a surge in visitors to this unique country.
Of course, lead actors Jackman and Kidman are the biggest draw to this film. It may be a good marketing ploy that Jackman happened to appear on the news stands as "The Sexiest Man Alive" just when the film hit theaters. But his fans already knew that and certainly won't mind taking in every minute of his character's changing moods in Australia. Jackman's performance is so convincingly complex, it's hard to imagine this movie without him.
Kidman on the other hand, never seems as emotionally vested in her role as she was in her Oscar-wining performance in The Hours or her Oscar-nominated role in Moulin Rouge! But rest assured there's enough sexual chemistry between her and Jackman to please romance fans. When Drover first arrives on screen, he doesn't like Sarah -- and Jackman's sarcastic manner comes across like Rhett Butler's attitude toward Scarlett O'Hara in Gone with the Wind.
"The Drover hates the wealthy, land-owning Establishment, and Sarah is the poster girl for the aristocracy," Jackman said. "He takes delight in shocking and teasing her, because everything about her annoys him. She's arrogant, pretentious, frustrating and impossible."
Brandon Walters' sweet face melts hearts every time he appears on screen. A local Australian boy making his film debut as Nullah; Walters is destined to grace the screen again.
It's hard to ignore all the inconsistencies in this movie -- like the thrown-in fish-out-of -water segment about the Wizard of the Oz. Still, Australia might work for viewers ready to escape the shopping malls or for anyone who might enjoy watching Hugh Jackman in a shower scene.
(Released by 20th Century Fox and rated "PG-13" for some violence, a scene of sensuality, and brief strong language.)
Review also posted on www.reviewexpress.com .