Laughing at Life's Realities
by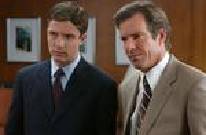 Anyone who has ever answered to a younger boss can identify with the scenario of In Good Company, a comedy starring Dennis Quaid, Scarlett Johansson, Topher Grace, and Marg Helgenberger.

Dan Foreman (Dennis Quaid) is not rich, but at mid-life heís content with his job as an ad salesman for the weekly magazine Sports America. Dan heads up the large sales team in his New York office and everyone seems to be content with his/her job. The inevitable happens when the national conglomerate Globecom absorbs the magazine.
Enter Carter Duryea (Topher Grace), a 26-year-old Globecom rising star moved into the Sports America office as the new boss. Carter, a sweet young man, is already dealing with a divorce after only seven months. Now heís forced to be a hatchet man, but he knows itís part of getting ahead, so he takes the task in hand.
Dan canít help being incensed about whatís happening. Under his leadership the magazine has done very well. As he and Carter set out to meet the advertisers, they quickly learn how different their styles are. Danís sincere, no-pressure and know-your-client approach has always worked well. Carter canít comprehend this.
While Dan must watch his beloved colleagues get the axe one by one, his home life becomes a little rocky. His wife (Marg Helgenberger) has just informed the 51-year-old that heís going to be a father again, and Alex (Scarlett Johansson); his eldest daughter, has been accepted at NYU. Now Dan has to worry about losing his job.
Alex and Carter meet one day when she comes to see her dad. Soon theyíre an item, but keeping it secret from Dan. Screenwriter Paul Weitz (About a Boy) offers a simple plot and uses the talents of his cast as well as lifeís realities to pump up the fun in the movie.
Dennis Quaid makes easy work of being the worrywart dad and boss. Playing a sweet daughter and enticing girlfriend is no problem for the lovely and talented Scarlett Johansson (A Love Song for Bobby Long). But itís Topher Grace (Win a Date with Tad Hamilton!) who really carries the film. His character must work through a range of emotional situations and yet maintain his composure.
In Good Company is a fun comedy worth seeing.
(Released by Universal Studios and rated ďPG-13Ē for some sexual content and drug references.)
Read Diana Saengerís reviews of classic films at http://classicfilm.about.com.