Monsters vs. Aliens
by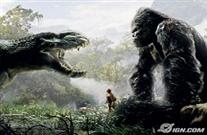 Movie Mom Nell Minow and Mad Movie Man A. J. Hakari square off again about Monsters vs. Aliens on film during a Movie Addict HQ episode scheduled for October 23. Which of these creatures are the most entertaining? In this spirited debate, both noted film critics pull no punches about their favorites, so listeners are in for more pre-Halloween fun!
Among the movies to be discussed are:
MEN IN BLACK
INVASION OF THE BODY SNATCHERS
KING KONG
THE WAR OF THE WORLDS
E.T.
LILO & STITCH
GODZILLA
FRANKENSTEIN
MONSTERS, INC.
MONSTERS VS. ALIENS
MARS ATTACKS!
PAN'S LABYRINTH
HELLBOY
THE DAY THE EARTH STOOD STILL
THE WOLFMAN
THE MUMMY
GALAXY QUEST
Minow, author of The Movie Mom's Guide to Family Movies, writes film commentary for Beliefnet.com and has been featured in such publications as USA Today and The New York Times. Hakari is a horror expert who has contributed reviews to Terror Tube and various other sites, including his popular new Cinesplice blog.
"Monsters vs. Aliens" airs on BlogTalkRadio at 4 p.m. Eastern Time (1 p.m. Pacific Time) on Tuesday, October 23, 2012.
During the live show, listeners are invited to participate in a chat. An archived segment will also be available.
HOST: Betty Jo Tucker
PRODUCER: Nikki Starr
ASSISTANT PRODUCER: Neil Haley
LINK: Click here.