Katherine LaNasa: Star on the Rise
by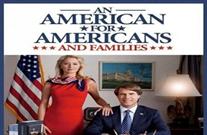 Stunning actress Katherine LaNasa visits Movie Addict Headquarters on August 7th to discuss her role as Will Ferrell's wife in The Campaign, a timely comedy opening nationwide on August 10th. Katherine's star is on the rise this year with additional appearances in several upcoming films and TV shows, including Jayne Mansfield's Car, The Frozen Ground and NBC's Infamous. Her previous movies include Alfie, Valentine's Day and Always Say Goodbye. Among her numerous television credits are such popular series as Big Love, Longmire, Justified, Two and a Half Men, Grey's Anatomy and Burn Notice.
In The Campaign, Katherine plays the wildly hilarious Rose Brady, wife to North Carolina's #1 politician Cam Brady (Ferrell). Her character serves as the glue holding the Brady camp together during her husband's latest -- and maybe disastrous -- political campaign.
Katherine also stars later this year as Fran Hansen, wife of a serial killer (John Cusack) in The Frozen Ground, a chilling film that follows Alaska State Trouper (Nicolas Cage) as he partners with a young woman (Vanessa Hudgens) to bring the murderer to justice. This movie is scheduled for release on November 30, 2012.
And, during the fall of 2012, Katherine can be seen in Jayne Mansfield's Car, directed by Billy Bob Thornton and starring Kevin Bacon, Robert Duvall and John Hurt.
In January of 2013, Katherine will be appearing in Infamous, a "Revenge-esque" prime time television series. She portrays the glamorous and powerful socialite Sophia Bowers. Others in the cast include Victor Garber, Tate Donovan and Meagan Good.
This Katherine LaNasa interview airs on BlogTalkRadio at 4 p.m. Eastern Time (1 p.m. Pacific Time) on Tuesday, August 7, 2012. During the live show, listeners are invited to call in and to participate in a chat. An archived segment will also be available.
CALL-IN NUMBER: 646-478-5668
HOST: Betty Jo Tucker
PRODUCER: Nikki Starr
LINK TO LISTEN: Click here.