Singin' in the Rain 60th Anniversary
by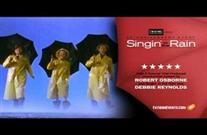 On July 10th, Movie Addict HQ celebrates the 60th Anniversary of Singin' in the Rain with personal visits from Robert Osborne, the elegant host of Turner Classic Movies, and award-winning actress Rita Moreno, who portrayed Zelda in Singin' in the Rain. Plus, a clip of the legendary Debbie Reynolds talking about working on this classic musical will be played. Film historian James Colt Harrison and Diana Saenger, founder/editor of Classic Movie Guide, also plan to join in the fun.
Osborne will report on the special TCM/Digiplex Destinations collaboration in bringing one of Hollywood's most iconic films back to the big screen in select theaters on Thursday, July 12, as well as the release of a special 60th Anniversary DVD. Moreno will share her most memorable experience about being part of the film's cast.
Singin' in the Rain graces the silver screen for only one night, and has been fully remastered to offer a higher definition picture and sound quality than ever before. Tickets for the event are available at Fathom Events. This beloved movie is based on the crisis Hollywood faced back in the 1920s when "talkies" came on the scene, and the clever story by Adolph Green and Betty Comden zips along from beginning to end -- with joyful musical numbers (from songwriters Arthur Freed and Nacio Herb Brown) enhancing the plot instead of detracting from it. Here are some fan favorites:
■ "Make 'Em Laugh" – Donald O'Connor's hilarious slapstick routine.
■ "Good Morning" – exuberant dancing and singing by star trio Debbie Reynolds, Donald O'Connor, and Gene Kelly.
■ "Moses Supposes" – Gene Kelly and Donald O'Connor in one of the most energetic tap numbers ever filmed.
■ "Broadway Ballet" – the memorable screen debut of Cyd Charisse's gorgeous legs .
■ "Singin' in the Rain" – that famous title number danced with pure abandon and delight by Kelly.
This should be a fun Movie Addict HQ episode! It airs on BlogTalkRadio at 4 p.m. Eastern Time (1 p.m. Pacific Time) on Tuesday, July 10, 2012. During the live show, listeners are invited to call in and to participate in a chat. An archived segment will also be available.
CALL-IN NUMBER: 646-478-5668
HOST: Betty Jo Tucker
PRODUCER: Nikki Starr
CO-PRODUCER: Neil Haley
LINK TO LISTEN: Click here.