Five Fun Years!
by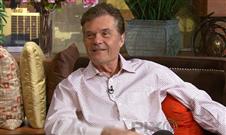 Movie Addict HQ invites you to a Fifth Anniversary Party featuring clips of famous guests, favorite shows, a book giveaway and other goodies! Among the many popular guests in the spotlight during this special celebration are Fred Willard -- who plans to drop by in person -- Cloris Leachman, Debbie Reynolds, Lucie Arnaz, Lorna Luft, Russell Hornsby, The Muppets, Nancy Lombardo and Morgan Lawrence. It should be a fun party, so be sure to join the Movie Addict Headquarters gang at BlogTalkRadio on June 5th.
Film-related books to be given away in a special drawing at this Anniversary Celebration include:
Lucille Ball FAQ: Everything Left To Know about America's Favorite Redhead by James Sheridan and Barry Monush
Me and Orson Welles by Robert Kaplow
Everything I Need To Know I Learned from a Chick Flick by Kimberly Potts
Confessions of a Movie Addict by Betty Jo Tucker
Susan Sarandon: A True Maverick by Betty Jo Tucker
"Five Fun Years" airs on BlogTalkRadio at 4 p.m. Eastern Time (1 p.m. Pacific Time) on Tuesday, June 5, 2012. During the live show, listeners are invited to call in and to participate in a chat. An archived segment will also be available.
CALL-IN NUMBER: 646-478-5668
HOST: Betty Jo Tucker
PRODUCER: Nikki Starr
ASSISTANT PRODUCER: Danielle Dyer
LINK TO LISTEN: Click here.
(Photo: Fred Willard, of course.)