New Musicals Coming
by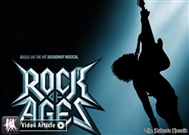 As the world's most avid movie musical fan, I feel disappointed about so few films of this genre being made now. But hey, fellow musical lovers, take heart! We have at least four potential gems to look forward to within the next twelve months. So, to boost your spirits during this current dry spell, I offer the information below.
ROCK OF AGES. This film adaptation of the Broadway musical boasts a terrific cast including Julianne Hough, Alec Baldwin, Catherine Zeta-Jones, Diego Boneta and Tom Cruise. Directed by Hairspray's Adam Shankman, it will be opening wide on June 15, 2012. The trailer has been playing in theaters for the past couple of weeks, and it looks like such fun! Still, I think it's too bad that American Idol heartthrob Constantine Maroulis, who performed splendidly in the stage version, is nowhere to be seen in the movie.
LES MISERABLES. I've been looking forward to watching Hugh Jackman in a musical for a very long time -- and what a treat this one should be! Jackman portrays Jean Valjean in this movie version of the immensely popular stage production. Just imagine him singing "Bring Him Home." It should bring down the house, for sure. The rest of the cast members are also stellar. Russell Crowe plays Inspector Javert, Anne Hathaway is Fantine, and Amanda Seyfried has the role of Cozette. But can Tom Hooper direct a musical? He's the guy who helmed The King's Speech and Longford, which are both very serious dramas. Not to worry. Les Miserables tells an intensely gripping story (by Victor Hugo), and the music for the live theater version comes across as both stirring and soulful -- except for "Master of the House," a very funny number indeed. Les Miserables opens on December 14, 2012.
COBU. We'll have to wait until February 21 of 2013 to see Derek Hough -- the world's greatest dancer, in my book -- co-star with Izabella Miko in this film about star-crossed lovers who find themselves in the middle of a rivalry between their brothers, the managers of two underground dance clubs. I think most of Derek's fans believe seeing him on the big screen is worth waiting for. In the meantime, they'll continue to watch Derek perform those creative and dynamic routines on Dancing with the Stars.
HOW DO YOU WRITE A JOE SCHERMANN SONG? This independent musical, written and directed by Gary King, recently won the Audience Award at the Phoenix Film Festival. Plus King was named the festival's Breakthrough Filmmaker. I'm expecting singing, dancing (even tap dancing, my favorite!) and romance to fill the screen here. Joe Schermann and Christina Rose co-star in this festival crowd-pleaser about the ups and downs of writing an Off-Broadway production. No release date has been announced yet, but King says, "We have been accepted into other festivals and plan to announce the locations as soon as we are allowed to…I'm also excited to share that we already have interest from distributors."
As you've probably guessed, I can hardly wait to see all four of these film musicals. How about you?