Romance Revisited
by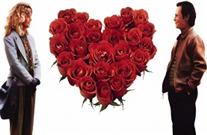 Movie Addict Headquarters presents author Kimberly Potts and film critic Diana Saenger in a discussion about great love stories on film during a special Valentine's Day rerun episode on February 14. Free copies of It Had To Be Us, an award-winning romantic memoir by Harry & Elizabeth Lawrence, will also be given away in a random book drawing.
Kimberly is author of Everything I Need To Know I Learned from a Chick Flick and George Clooney: The Last Great Movie Star. She has written for AOL Television, TV Guide, US Weekly, Inside TV, Movies.com, LATimes.com, Metromix.com, E! Online, Daily Variety, iVillage.com, Teenmag.com, the Detroit Free Press, and the Cincinnati Enquirer.
Diana serves as entertainment editor for the San Diego East County Gazette, writes for Script Magazine and operates her own syndicate and online site called Review Express. She is also founder/editor of Classic Movie Guide and author of Everyone Wants My Job: The ABC's of Entertainment Writing.
In this lively episode, Kimberly and Diana join the Movie Addict Headquarters gang to cover such topics as:
Top five love stories on film
Best movie romantic couples
Favorite romantic scenes
The difference between a love story and a chick flick
"Romance Revisited" airs on BlogTalkRadio at 4 p.m. Eastern Time (1 p.m. Pacific Time) on Tuesday, February 14. An archived segment will also be available. During the show, listeners are invited to participate in a live chat.
HOST: Betty Jo Tucker
CO-HOST: Jazz Shaw
PRODUCER: Nikki Starr
ASSISTANT PRODUCER: Dani Dyer
LINK TO LISTEN: Click here on or after February 14, 2012.