Monsters Vs. Aliens Debate On Demand
by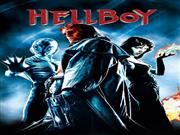 From October 16 through October 22, Movie Addict HQ features the Great Monsters Vs. Aliens Debate show as our "On Demand/Best Of" encore episode. Special guests are noted film critics Nell Minow and A.J. Hakari, who square off about which film creatures are the most entertaining. Minow and Hakari are both respected film critics who pull no punches where movies are concerned, so you are in for some pre-Halloween fun!
Listeners can hear this debate at any time during the week by clicking on the BlogTalkRadio link at the end of this article.
Among the movies discussed during this popular episode are the films listed below.
ALIENS:
MEN IN BLACK
INVASION OF THE BODY SNATCHERS
THE WAR OF THE WORLDS
E.T.
GALAXY QUEST
LILO & STITCH
MARS ATTACKS!
SIGNS
MONSTERS:
KING KONG
YOUNG FRANKENSTEIN
GODZILLA
FRANKENSTEIN
MONSTERS, INC.
MONSTERS VS. ALIENS
HELLBOY
THE WOLFMAN
THE MUMMY
***
HOST: Betty Jo Tucker
CO-HOST: Jazz Shaw
PRODUCER: Nikki Starr
LINK TO LISTEN: Click here.