'The Birds' Again!
by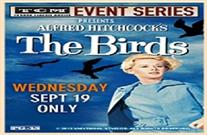 Ben Mankiewicz, Turner Classic Movies host, joins Movie Addict HQ on September 11th to share TCM plans for celebrating the 100th Anniversary of Universal Pictures. First up? The Birds, which will be shown in select theaters for one day, September 19. An interview with star Tippi Hedren, who talks about her experience working with director Alfred Hitchcock while filming that classic horror film, will also be revisited during this special episode.
When Mankiewicz, grandson of screenwriter Herman Mankiewicz (Citizen Kane), made his TCM debut in September 2003, he became only the second host hired in the network's history. As a film critic, Mankiewicz currently co-hosts the movie review show What the Flick? and co-hosted the nationally syndicated TV series At the Movies. He also reviews films for The Huffington Post.
In addition to his hosting activities on TCM, Mankiewicz will soon be the host of Hot Set, an extreme design challenge pitting two Hollywood production designers each week in a head-to-head battle to design, build, decorate and ultimately create an original and signature movie set that transports the viewer into an immersive world. This new reality show is premiering September 18 on the SYFY channel.
Mankiewicz reluctantly admits to taking on several "remarkably undistinguished" acting roles on such TV shows as Big Love, Party Down, The Practice and The District, as well as in the Lifetime movie The Bling Ring. (He claims his dog Rookie is also a lousy actor.)
Ben Mankiewicz, The Birds, and Tippi Hedren -- what a treat for movie fans!
This episode airs on BlogTalkRadio at 4 p.m. Eastern Time (1 p.m. Pacific Time). During the live show, listeners are invited to call in and to participate in a chat. An archived segment will also be available.
CALL-IN NUMBER: 646-478-5668
HOST: Betty Jo Tucker
CO-HOST: James Colt Harrison
PRODUCER: Nikki Starr
TECHNICAL ASSISTANT: Neil Haley
LINK TO LISTEN: Click here.