Christopher Scott: Dance Innovator
by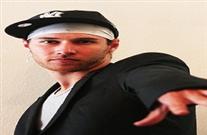 Emmy-nominated Christopher Scott is a dancer, actor, and resident choreographer for "So You Think You Can Dance." Although scheduled for an interview during this September 4th Movie Addict HQ episode, Scott was called back for rehearsals, so Nikki Starr and I talked about him and played some musical numbers we thought he would enjoy.
There's a lot to talk about where Scott is concerned. He recently earned two Emmy nominations for creating "Misty Blue" and "Velocity," routines performed on the hit TV competition series. Previously, he generated the amusing moves for Alvin in Alvin and the Chipmunks and has appeared in such films as Step Up to the Streets and Step Up Revolution. In addition, this talented artist put together a dynamic dance piece for the 82nd Academy Awards televised ceremony and founded The Legion of Extraordinary Dancers (LXD), a web series he refers to as a "Justice League of Dance." Among the celebrities utilizing Scott's innovative choreography are Brittany Spears, Miley Cyrus and Justin Bieber.
After signing up for tap lessons at Hollywood High School, Scott found his calling. In fact, dance has been a passion he's pursued "all the way to the 3rd street promenade of Los Angeles." Street performing soon emerged as a natural outlet for him. It became a learning tool that helped him realize the many different styles of hip-hop while being formally trained in tap. When Debbie Allen chose Scott to dance in the 2000 American Music Awards with Mariah Carey, he decided to cultivate his craft into a career.
Scott uses dance as a way to encourage today's youth. He's an avid supporter and collaborator of Invisible Children, Inc., a non-profit organization founded in Uganda in 2004 to bring awareness to the activities of the Lord's Resistance Army in Central Africa. The group seeks to end the practices of the LRA which include abductions and abuse of children, plus forcing them to serve as soldiers. Scott also supports SYTYCD's Dizzy Feet Foundation, founded to help underprivileged youngsters who want to become professional dancers -- and to increase access to dance education nationwide.
This episode aired on BlogTalkRadio at 4 p.m. Eastern Time (1 p.m. Pacific Time) on Tuesday, September 4, 2012, and an archived segment is available. LINK TO LISTEN: Click here.
Scott called in to Movie Addict HQ during the September 25 show and engaged in a lively discussion with Barry Bostwick during the last part of that fun episode. LINK TO LISTEN: Click here.