Superheroes: Behind the Scenes
by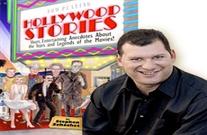 Attention, superhero fans! Be sure to mark your calendar for June 26th. That's the date when Movie Addict HQ welcomes Stephen Schochet, who promises to regale listeners with fascinating behind-the-scenes tales about superhero films like Batman Begins, Superman, Spider-Man, and The Avengers.
As a Hollywood tour guide, Stephen began doing research years ago in order to tell colorful accounts about Tinseltown to his customers -- and most of these tales are included in his informative and fun book Hollywood Stories: Short, Entertaining Anecdotes about the Stars and Legends of Hollywood. Stephen also hosts a syndicated one minute radio feature called Hollywood Stories, and he's the author/narrator of two audio books, Tales of Hollywood and Fascinating Walt Disney.
Always a popular guest on Movie Addict HQ, Stephen really knows Hollywood – and he's a great storyteller! He never ceases to surprise listeners with new, interesting stories about actors, directors, writers and producers. His interview about Disneyland Memories on Movie Addict HQ is a favorite among film fans. It should be a treat to Stephen talk about superheroes, especially since this summer offers a new Batman and Spider-Man flick.
"Superheroes: Behind the Scenes" airs on BlogTalkRadio at 4 p.m. Eastern Time (1 p.m. Pacific Time) on Tuesday, June 26. During the live show, listeners are invited to call in and to participate in a chat. An archived segment will also be available.
CALL-IN NUMBER: 646-478-5668
HOST: Betty Jo Tucker
CO-HOST: A.J. Hakari
PRODUCER: Nikki Starr
LINK TO LISTEN: Click here.